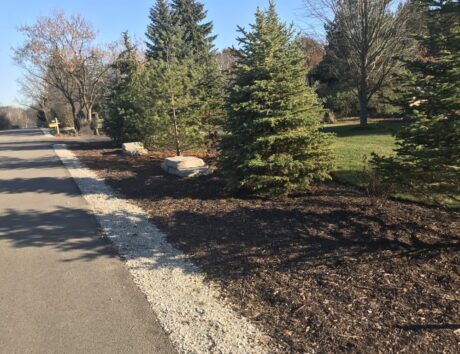 Prairie Ridge Lawn Service takes pride in the work we do. We treat every job as our most important. Our keen eye coupled with your landscaping desires are where the true beauty comes into play. Working together with our clients is important to us. We always put our customers wants first. If this sounds like a great match for you, then contact us today for more information! We can't wait to help you!
Prairie Ridge Lawn Service offers several high-quality landscaping options for your lawn. Whether it be a commercial property or your own personal property, PRLS can provide you with the perfect look. Our professional team knows how to make your landscape look classy and inviting. Let us help transform your lawn into a serene, peaceful feeling ambience that you've always wanted. Our hard work, dedication, and attention to details shows why we are one of the best Racine Landscapers. Listed below are a few of the services we can provide you.
Common Racine Landscaper Services
Bushes
Mulching
Planting

Flowers and Annuals
Grasses and small bushes

Trees
Trimming and Pruning

Tree Trimming/Pruning
Shrub Trimming/Pruning

Weeding

Weed Pulling
Weed Spraying
If you are interested in adding a firepit, patio, or retaining wall we do offer hardscaping services as well!
Contact us today to learn more about packages and pricing!