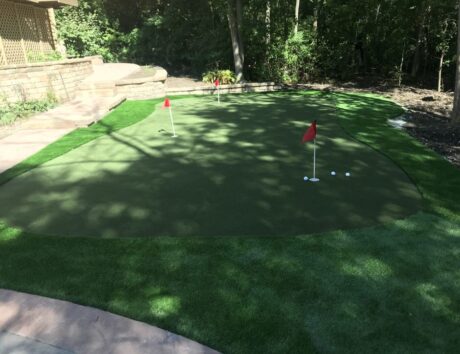 Are you facing water drainage issues on your property? Or perhaps you dream of creating a unique area like the gorgeous putting green featured above? Imagine hosting backyard barbeques in absolute style and elegance! Look no further, for Prairie Ridge Lawn Service is your ultimate solution to all of these needs and more! Our team is passionate about transforming your landscape in Racine to match your vision, addressing any challenges that we may be faced with along the way.
Why Landscape in Racine?
The main reasons that people enhance their landscape in Racine are simple:
Boosting curb appeal
Creating a backyard oasis (or transforming the entire yard into an oasis)
Hosting special event
Establishing privacy
Resolving water or other related issues
These are all excellent reasons to invest in a remarkable landscape design for your property. Our homes are not just living spaces – they should be sources of joy and security. A skillfully crafted landscaped yard offers one of the most effective ways to achieve that sense of comfort and happiness.
At Prairie Ridge Lawn Service, we take great pride in our team of seasoned professionals, ready to cater to all your landscaping needs! Whether you have specific projects in mind, such as creating a surround for a 3/4 above ground pool, installing an inground trampoline, or setting up a basketball or athletic pad, we've got you covered. Don't wait – contact us today and follow us on Instagram to find out more about what we can do for your landscape in Racine!
Our commitment is to design and deliver the finest solutions tailored just for you. Let's work together to create a landscape that will leave you satisfied for years to come!