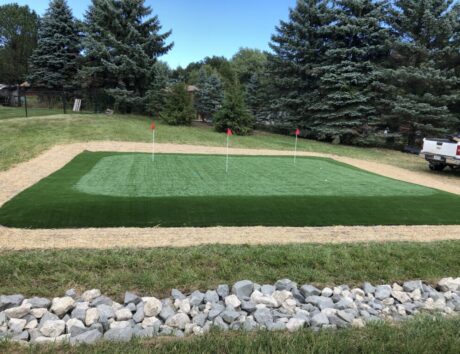 Do you have water drainage issues? Or are you looking to add a special area to your property (like the putting green above)? Maybe you just need some help with a little design so you can hold your back yard barbeques in style. Whatever your needs may be, Prairie Ridge Lawn Service is here to help!
Why Landscape in Kenosha?
The main reasons that people do things with their landscape in Kenosha are simple:
Curb appeal
Create a backyard oasis (or entire yard oasis)
Hold a special event
Create privacy
Address water or other issues
These are all great reasons to add a great design to your property. We spend a lot of time in and around our homes and we want our homes to make us feel happy and secure. Looking around at an expertly created, beautifully landscaped yard is one of the best ways to do that.
Here are Prairie Ridge Lawn Service, we have a staff of experienced professionals for any of your landscaping needs. We can help you with those special projects, also, like an inground trampoline or surround for a 3/4 above ground pool or that basketball or other type of athletic pad you would like. Whatever the reason for your desire to add to your landscape, don't hesitate to contact us today.
We will work to design and fulfil the best solutions for you.